So, back in March of 2019, the Crows had had a big win over Carlton in the Grand Final, in a thrilling match that broke attendance records, with over 53,000 spectators.
It was an amazing milestone for the AFL Women's, showing just how popular the league was becoming and how passionate its fans were.

But not all news around the AFLW was entirely positive that year…
In the lead up to the grand final, there was a lot of conversation about this image: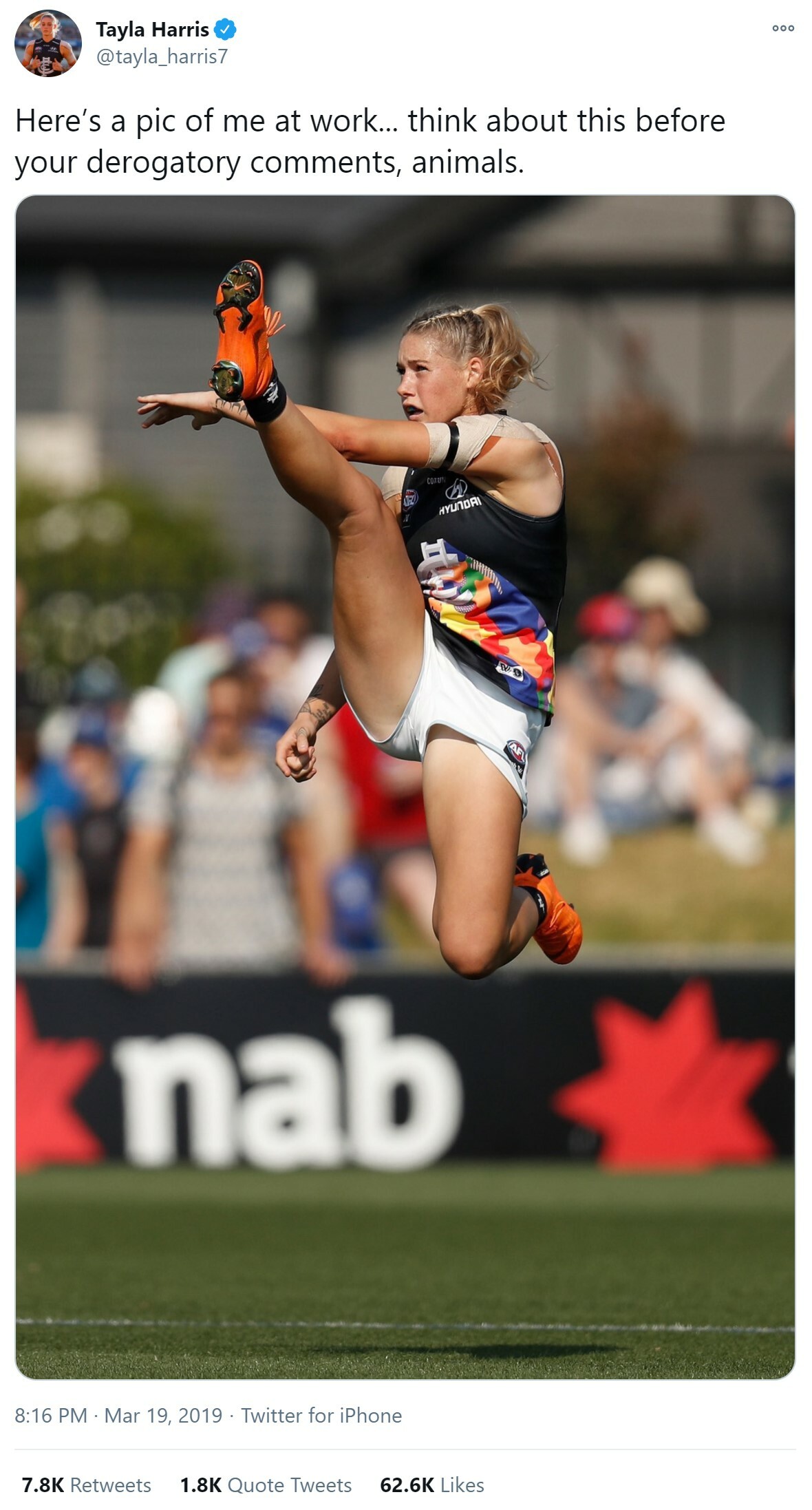 Why was there was so much conversation about it...? Because of the comments that were made about it online.
Basically, a whole lotta people said some really disgusting and sexualised stuff about the image of Tayla Harris – a professional athlete performing at a phenomenal standard in the AFLW. This should have been an image celebrating sporting excellence – Harris is an elite Australian athlete, not only a star of the AFLW but also one of the world's highest ranked female boxers. Instead, it became a target for horrendous gendered online abuse and sexual harassment.
It was pretty obvious that these kinds of comments would never be made about an image of a male player, and a glaring example of the sexism that women face in sport, and on social media generally.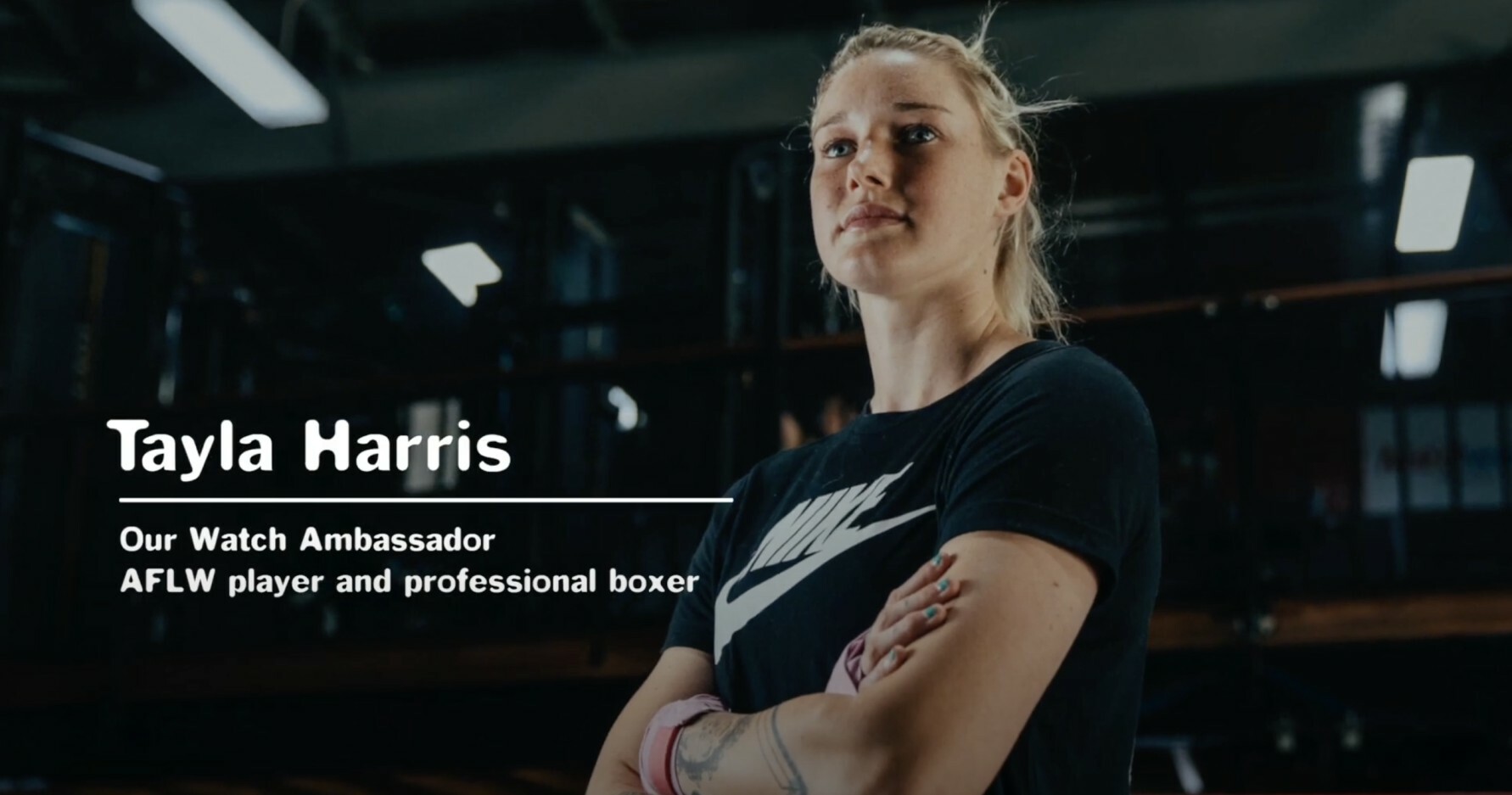 [Tayla Harris skipping and boxing in a boxing gym]
Violence against women is a spectrum. And it starts with something that could be discreet, like disrespect towards women. And that can be online, or in person. I experienced it online, and with the help of Our Watch and Patty Kinnersly I was able to recognise that, and then take a stand against it.
[Titles on screen: Tayla Harris, Our Watch ambassador, AFLW player and professional boxer]
So, the experience that I went through in March last year was a photo went up online of me playing footy.
[Screen shows famous image of Tayla Harris kicking a football in social media-type post]
A lot of people decided to make some pretty crude comments and allude to pretty disgusting and confronting things. I realised that this is the start of what could be a whole bigger issue. As soon as I heard that and realised that, I thought this is something I have to call out, and if I didn't I would have felt really wrong.
I wanted to be an ambassador for Our Watch because I saw it as a really good opportunity to raise awareness for something that I'm really passionate about. Raising awareness for domestic violence and violence against women and their children is really important. For me, I feel that it's my duty to do what I can in this space.
I feel passionate about promoting gender equality. It's the responsibility on this generation to make sure that this discrepancy between men and women isn't carried over into the next generation. I think it's something that we can really make a change and are actively making a change on right now. And it's something that's really rewarding to do, as well. It's giving people a chance.
I think sport is a really important setting for change and the promotion of gender equality. Because it's somewhere that is a community, so an AFL team or an AFL club represents something that is a community and pretty much brings people from all walks of life together for one common goal.
And I think that's something really rare, and really special and unique. So if we can stop that pattern – young people growing up, not understanding what inequality is, then I think it'll be really massive change and a real improvement for women's lives, which is the main goal.
[Our Watch logo and website address on screen]
While the comments around the Tayla Harris image were bad enough, things got worse when the Seven Network decided to remove the image because of the comments being made.
This sent the wrong message to everyone (that is, that if enough people troll a post in a disgusting enough way, the response will be to remove the post – rather than address the trolling!). Fortunately, Seven shortly after decided to repost the image, with an apology attached.
Seven also said that they would work harder in the future to deal with trolls, hopefully making it an experience to be learned from, and less likely to happen in the future.
Also encouraging was the number of people that came forward to show their support for Tayla and more generally highlight and speak out against sexist online abuse – from fellow AFLW and AFL players, athletes and legends of footy and other sports and codes, as well as commentators, sports executives and politicians.
Importantly, as well as these high-profile advocates, there was a general groundswell of people voicing just how tired they were with the kind of sexist, aggressive and misogynist trolling we too often see towards women online. Another happy ending to this story – on 11 September 2019, a bronze statue immortalising the image of Tayla was unveiled in Federation Square, Melbourne.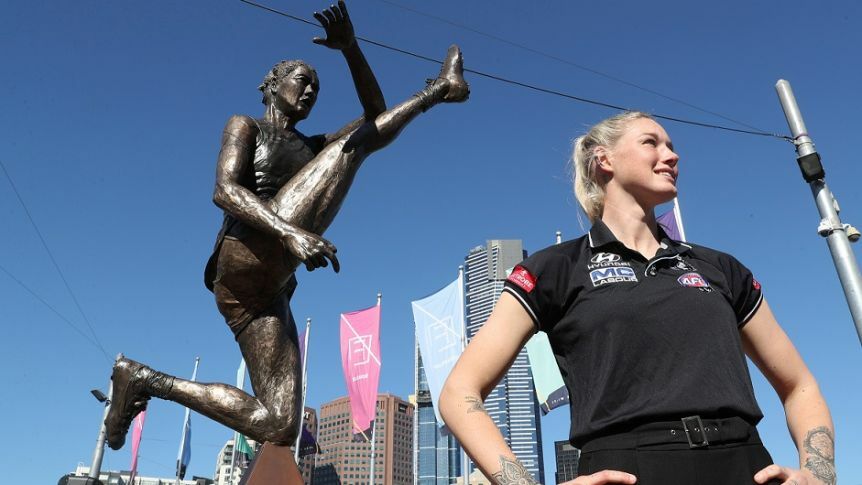 Remember, using social media to make uninvited comments to bring someone down, particularly if it's in an aggressive or sexualised way, is basically never appropriate or respectful. If you see something inappropriate, report it. If you feel comfortable, you can also shut it down or call it out to show it's not acceptable.
If you are experiencing or want to know more about trolling, online harassment or technology facilitated abuse, visit the eSafety Commissioner website.