Adolescence is a time when young people are exploring, forming and testing ideas about gender, dating, relationships and sex.
This life stage presents a key opportunity for young people to build their relationships on equality and respect.
Research shows that recognising and respecting 'the line', as it relates to equality and respect in intimate and non-intimate relationships, can be confusing for young people because they receive so many different messages – and not all of them are positive or respectful.
Like the rest of us, young people are bombarded by messages and pressure to identify as either a man or a woman, and to look, behave and like things typically associated with that gender. This includes pressures about how men and women should relate and the roles they should fulfil.
Young people's ideas about gender are influenced by the media, advertising, school, celebrities, family and friends. This context shapes young people's attitudes and behaviours.
Here's a snapshot of some concerning attitudes that practitioners can help turnaround:
Nearly a third (31%) of young people believe that women prefer a man to be in charge in a relationship. [1]
Almost half of young men (47%) agree or strongly agree that guys should act strong even if they feel scared or nervous inside. [2]
Over a quarter of young people (28%) believe that if a woman sends a nude to her partner, then she is partly responsible if he shares it without her permission. [3]
Nearly a third of young men (32%) believe that 'a lot of times, women who say they were raped had led the man on and then had regrets'. [4]
What can I do?
You can play an important role in supporting young people to navigate the messages they receive from peers, family, the media and society about sex, gender and relationships.
You can model equality and respect in your interactions with young people, colleagues and others. And you can help young people to identify the elements of equal and respectful relationships, enabling them to create these for themselves.
You can support young people to:
Question and critique the messages they receive from peers, family, the media and society at large about gender, relationships and sex.
Analyse how romantic relationships can be affected by inequality and differences in power.
Determine what's okay and what's not when it comes to sex, dating and relationships.
Identify what equal and respectful relationships within peer groups and intimate relationships can look like.
Develop the knowledge and skills required to engage in equal and respectful relationships.
By working with young people in these ways, we are creating a future free from violence against women.
Many young people are already acting and advocating for gender equality, non-violence and respect. You can further support and enable young people to be change agents who contribute to preventing violence against women.
Below are some conversation starters that you might like to use to get young people talking about gender, relationships and respect.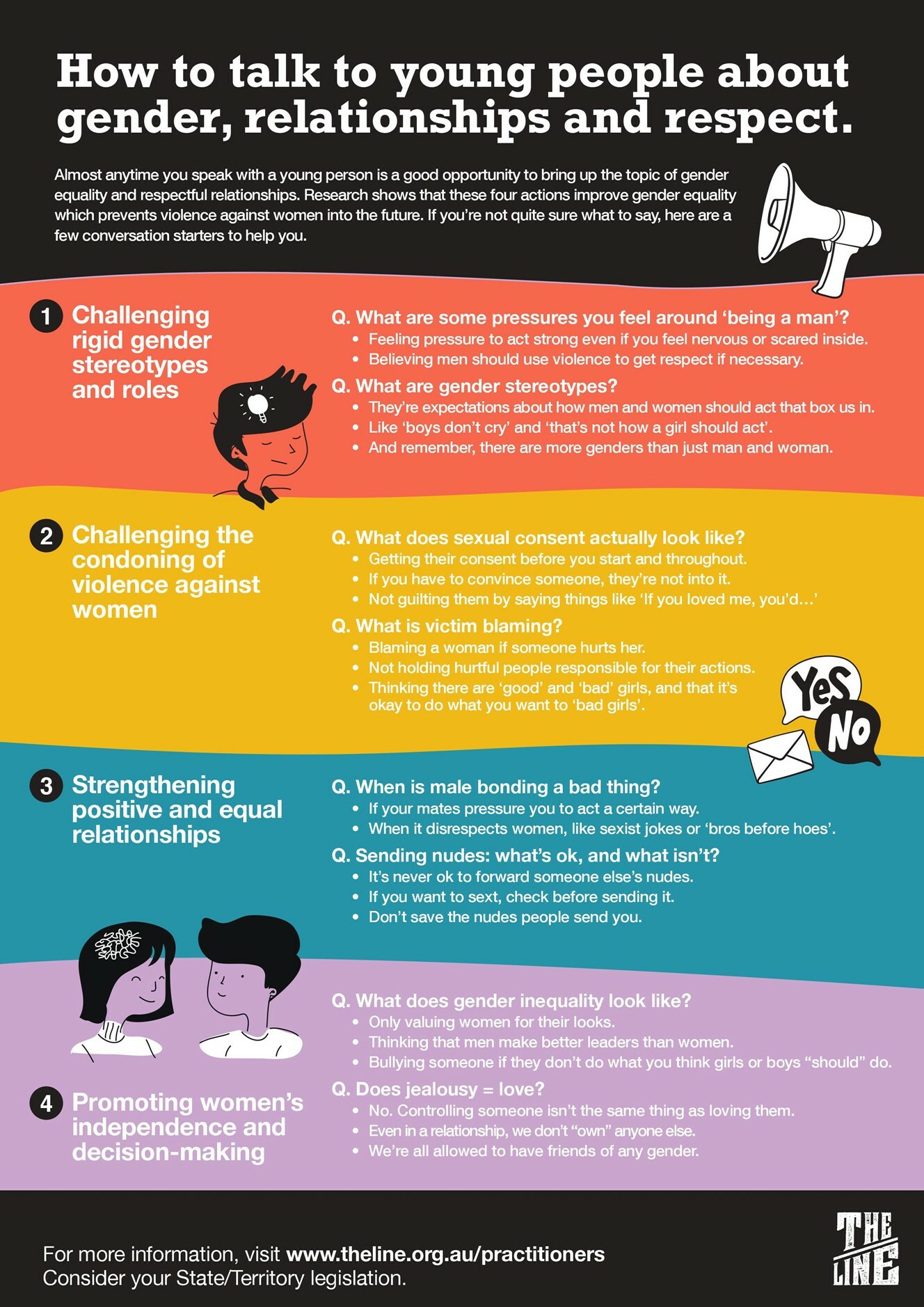 (Download this poster here)

References
¹ ³ ⁴ Politoff, V., Crabbe, M., Honey, N., Mannix, S., Mickle, J., Morgan, J., Parkes, A., Powell, A., Stubbs, J., Ward, A., & Webster, K., (2019). Young Australians' attitudes to violence against women and gender equality: Findings from the 2017 National Community Attitudes towards Violence against Women Survey (NCAS) (ANROWS Insights, Issue 01/2019). Sydney: ANROWS.
² The Men's Project & Flood, M, (2018) The Man Box: A Study on Being a Young Man in Australia. Jesuit Social Services: Melbourne.