When we inspire young people to question gender stereotypes, we enable them to make informed choices about their futures, broaden their opportunities and be who they want to be.
What types of gender stereotypes are prevalent among young people?
Research has indicated that:
Twenty-two per cent of young men and 12% of young women agree that 'men should take control in relationships and be the head of the household.' ¹
Forty-one per cent of young men and 36% of young women somewhat or strongly agree that if a girl's nude image ends up being shared around, its partly her fault for taking the photo in the first place. ²
Over one in five (22%) young men don't agree that people should always get consent before any sexual activity. This contrasts with just 12% of young women. ³
Seventeen per cent of young men and 8% of young women agree 'In the workplace, men generally make more capable bosses than women.' ⁴
These statistics largely echo adults' attitudes about gender equality and violence against women. For example:
One in six Australians disagree that women are equally capable in politics and the workplace. ⁵
One quarter of Australians (25%) agree that 'women prefer a man to be in charge of the relationship'. ⁶
This is not surprising, given that young people and adults alike are immersed in a social and cultural environment that produces and perpetuates gender stereotypes.
Television shows, advertising, sporting codes, schools and workplaces all communicate messages, explicitly and implicitly, about what is considered 'appropriate' for girls and boys, women and men.

Why should we support young people to challenge gender stereotypes?
Gender stereotypes can have long-term negative impacts on people's beliefs, attitudes and behaviours. Research shows that rigid gender stereotypes promote inequality between men and women, boys and girls, and ultimately contribute to violence against women.
Adolescence is a key time to talk about the impact of gender stereotypes and roles on choices, friendships and future relationships, because it is a time when young people are forming views about these important issues.
What knowledge and skills do young people need?
It is important to young people's health and wellbeing that they:
can identify and critically reflect on messages that promote gender stereotypes and inequality in the media, online and within the broader community
can make informed and respectful decisions about how to behave in terms of sex, dating, relationships and sexuality
understand the effect gender stereotypes can have on many aspects of their lives including sport, school, careers, relationships, friendships and within their families
develop realistic and respectful expectations about current and future relationships.
How can I challenge gender stereotypes among young people?
Below are a few ideas about how you can draw attention to, and challenge gender stereotypes through your work with young people.
When you see/hear examples of gender stereotypes use them as an opportunity for 'teachable moments' and ask any young people involved to reflect on what they mean and why they hold those views.
Acknowledge the ways gender stereotypes play out in the context of other forms of discrimination and stigma. For example, the stereotype that young women who wear a headscarf are submissive and quiet results from the intersection between sexism and racism.
Challenge traditional gender stereotypes when giving examples to young people, e.g. 'a female soldier' or 'a male nurse'.
Avoid making assumptions about a young person's gender identity based on their appearance and/or behaviour.
Use gender neutral language. For example, theirs, they, people, humankind.
Avoid statements that generalise based on gender. For example, 'girls tend to...' or 'boys are more...'
Don't limit what you ask a young person to do due to assumptions about gender. For example, ask girls to referee sports, ask boys to clean up after an activity.
Consider the way you interact with young people. For example, avoid being 'blokey' with boys or 'gentle' with girls.
Actively encourage young people that engage in activities that might challenge gender stereotypes, e.g. young men doing ballet or cooking and young women playing football or becoming a tradesperson.
In group settings, take note of where you direct your attention, particularly non-verbal communication, to ensure that it includes both young women and young men.
Encourage mixed gender group work and seating arrangements.
If you're in a classroom, use examples of gender inequality in your lesson. For example, look at statistics on the gender pay gap for a maths lesson, or use a history class to talk about the lack of women leaders and how things may or may not have changed.
Actively discuss and analyse sexist advertising and the media's representation of men and women.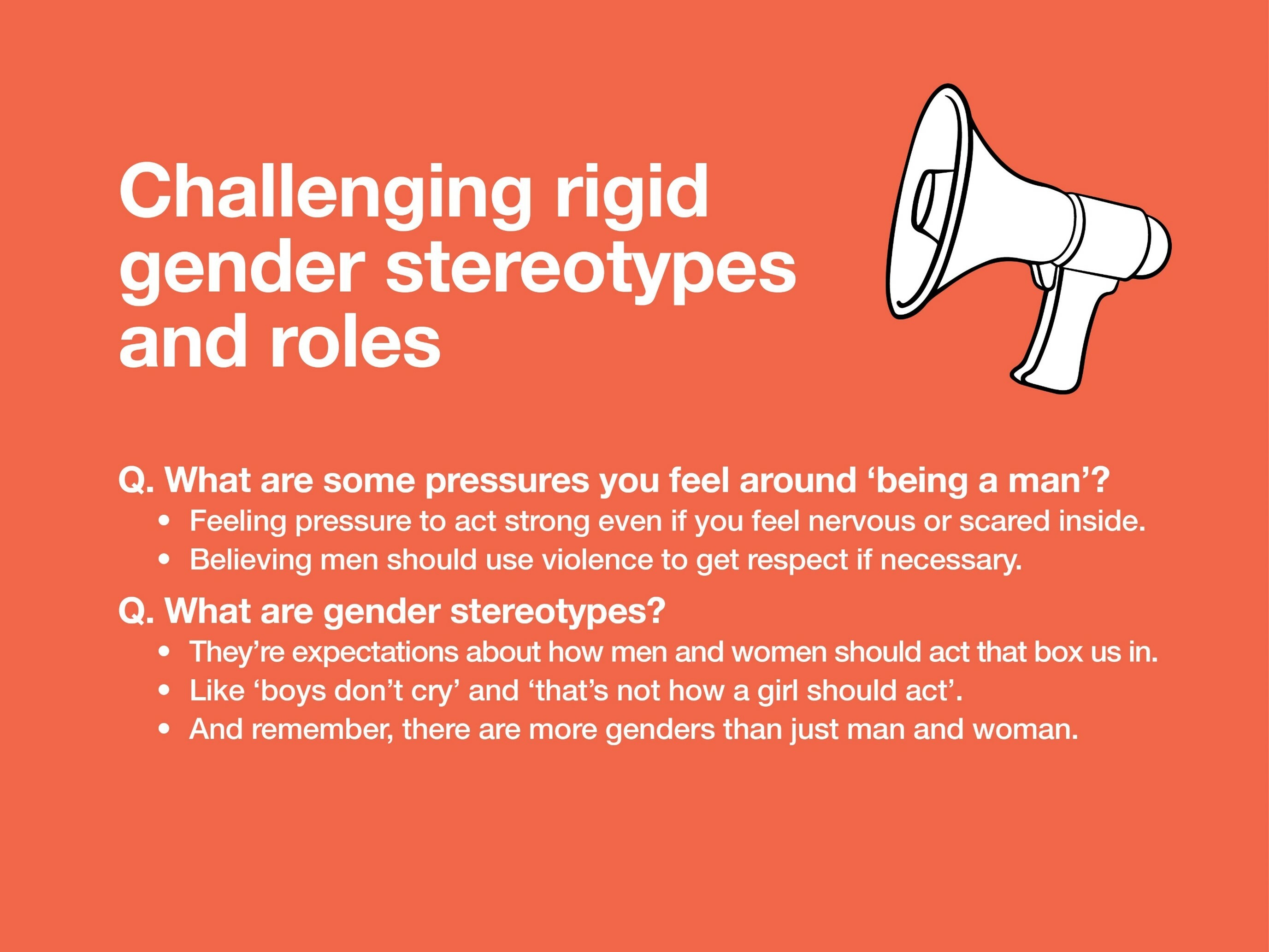 [Download this image here]
Practice tips
Seeking to challenge gender stereotypes can sometimes evoke strong reactions or emotional responses.
Your role is to create a safe space for critical reflection. Here are some tips to assist you to facilitate these discussions:
Rather than categorically declaring that gender inequality exists, or stating the negative impact of a gender stereotype, invite young people to consider questions such as: "What are the consequences of that belief about men/women?", "Who benefits?", "Does anyone miss out?" and "Is this fair?"
Acknowledge and encourage reflection on the way that gender stereotypes impact young people in different ways due to other forms of discrimination and stigma. Ask young people to reflect on the specific stereotypes that exist in relation to people who share their identities. For example, what are the particular stereotypes and assumptions about women living with disability, or about Aboriginal and Torres Strait Islander men? How are these limiting? Who do we know who challenges these stereotypes?
When talking about the limitations rigid gender stereotypes place on young people, extend reflections from considering the impacts on young men and young women to include the impacts for non-binary, transgender and gender diverse young people. For example, ask: "How might the idea that 'men have to be tough and strong' impact on gender diverse young people?" Similarly, work at assuming and speaking as though young people may not be heterosexual. Framing conversations in this way will ensure that you are inclusive of all young people.
Be guided by young people's responses when pursuing these conversations. Listening is key. Support young people to decide for themselves about the impact of gender stereotypes in their own lives.
Read next: Understanding gender stereotypes
References
¹ ⁴ ⁶ Politoff, V., Crabbe, M., Honey, N., Mannix, S., Mickle, J., Morgan, J., Parkes, A., Powell, A., Stubbs, J., Ward, A., & Webster, K., (2019). Young Australians' attitudes to violence against women and gender equality: Findings from the 2017 National Community Attitudes towards Violence against Women Survey (NCAS) (ANROWS Insights, Issue 01/2019). Sydney: ANROWS. P. 22
² ³ The Line, 2019. Snapshot evaluation findings for The Line campaign, 2019.